Day 3 Sunday Day of Rest
6 March 2011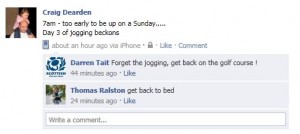 Sunday is a traditional day of rest don't ya know? What better way to start it than getting up early (7am) and go for a jog…
a quick post to Facebook to say I'm up too early, and off I go..
a few quick stretches, then walk for 5 mins (to the park) to warm up, and into the first 1 minute run… it's bloody cold.. freezing in fact, and my hands are baltic – no sun this morning though to brighten the day..
I was going to do a slightly different route this morning, but chose to go the way I've been going all week…
During the first run I get a message on the phone from Darren (best mate) who as you can see from the picture wants me to play more Golf – great – but I never get invited…!!!! lol plus I need a new Golf Bag…
Forget the jogging? – hmm – I'd love to – but deep down I know that I'm getting a fat bastard who won't be able to keep up with his daughter on her bike!!! So – for my sake and weight and I need to exercise…
So onto the second stage of the jog/walk/jog/walk… and I decide to deviate slightly from the instructions… (or should that be destructions) and run for 1.5mins – pushing the boat out I know, but next week it states to run for 2 minutes – so I need to know that I can do it.. – Answer to that – yup – no bother..
Third stage and I get the other message on Facebook – from Tommy – a good friend from the Type R Scotland Car Club, who like myself (and Darren for that matter) is follically challenged…
My message to you Tommy – you are a Skinny fucker who'll eat for Britain and stay skinny at the same time.. grrrrr.. :o) – oh – and I'd love to go back to bed Tommy..!
So for this 3rd stage I run for a whole two minutes (wooopee I hear you say) however, it's quite difficult when you ain't run for years..!!!
Thankfully this was the final stage of the day, and completed no problem… well apart from a few beads of sweat and slight shin splints and a dodgy back… I'm fine!
So – tomorrow – Week 2.
Week 1 finished and I have to say – I feel better for it…. wonder if I'll be saying that tomorrow..