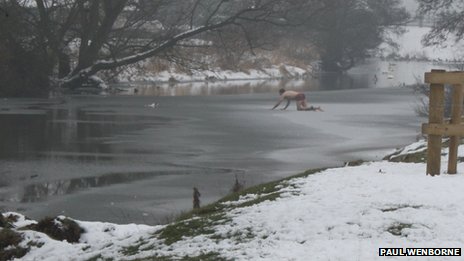 People are clueless
12 February 2012
I'm not saying I'm the brainbox of Britain, but bloody hell – some people are just plaing f**king stupid.
Take this fella – 'Man in underwear crawls onto ice' from the BBc News website, and an absolutely idiot.
"Even though this ice appears to be strong it can be eggshell thin and anyone who falls through into the water below could get trapped under the ice and would only be able to survive for minutes in the freezing water," he said.

"The most common cause is people chasing their dogs out on to the ice, and I urge people not to do this.

"It isn't worth the risk. Dogs will normally make it safely off the ice and back to the shore – the same cannot be said for people."
—————-
Today we lost one of the greatest Singers of our generation – Whitney Houston, what an absolute shame, money kills you, whether you've got it or not!!
I used to love her film the Bodyguard, and the music it contained, absolutely brilliant.
—————-
Nothing much else exciting, Carmen is back from Grannies, and she's just hitting the sack now, (8.30pm) so hopefully get a wee lie in tomorrow, she's off School this week, so it's a 'What to do with the Kids' week!
Anyways – enough for now – bye!