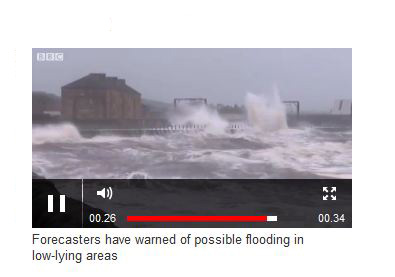 Hurricane Katia arrives in Scotland
12 September 2011
We always get the back end of what the Yanks get, a load of wind.
And rain.
I took Carmen to school this morning and I was like a drowned rat/cat/dog when I got back home… I also went to the Post Office to collect an inconveniently missed parcel, and I was already drowned then!!
Damned Hurricane..
However – I can understand certain places closing, Cheryl's work closed at 12noon because of the wind – but that is 150ft high, and kinda understandable…
On the other side of the coin – Edinburgh Zoo closed… I just want to know if anyone was brave enough to visit in the first place!
Hillend ski slope closed – why on earth did they open..?! people don't ski in this weather do they>??? really?
I had to then close our back garden for playing – it was horrendous – we had houses blown down, hammocks blowing away, trampline bouncing… wheelbarrow's upside down… As for the furniture.. I can't actually remember seeing that… eek..!
Not long after that it was time to go and get Carmen from School – and god knows why the teacher decides that she's going to take the longest time ever to come out… just urry up.. and of course – Carmen's at the back of the line!! Typical!
Bike with Carmen in the Trailer was a nightmare riding back – there was a gust at one point which just stopped me dead. eek!
Thankfully it wasn't pishing down at that point, just blowy!…
Relaxation now…
:o)
Tags: Bikes, Carmen, Edinburgh Zoo, Hurricane Katia, Weather, Windy